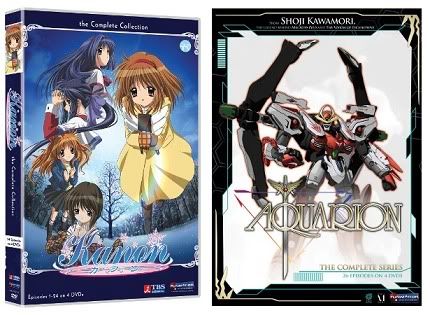 Last month it was quietly revealed that FUNimation was starting a brand new line of DVDs
known simply as S.A.V.E.
The inaugural DVD seemed to be the complete series of Kanon, & judging by its cheap price tag, it seemed a given that this S.A.V.E. line was made to save you money.
Since then, some more information has slowly trickled down the pipes. For one, it's been revealed that the acronym stands for "Super Amazing Value Edition." A few other S.A.V.E. DVD sets have also been revealed, including that the previously announced Aquarion re-release is also part of the line. Four more sets have been announced for April as well, all of which at incredible prices- Blade of the Phantom Master ($9.98), King of Bandits Jing OVA ($9.98), Pumpkin Scissors ($29.98), & StrAIn ($29.98). Interestingly enough, the entire month of April is filled with nothing but re-releases, with not one new anime release scheduled (D.Gray-man on Blu-ray & a re-release of Higurashi are also listed).
FUNimation had said on their Twitter page not too long ago that MoonPhase was the first scheduled title to be on the S.A.V.E line in March. I'm guessing this is a mistake on their part, as not only is their no MoonPhase release scheduled for March, I can't find any upcoming release of the series at all. The last time MoonPhase was released was over a year ago in January 2009, & that was part of their Viridian Collection. So I'd say it's pretty safe to assume that Kanon & Aquarion are the first titles in S.A.V.E. I for one welcome our cheap anime overlords.
Source:
http://twitter.com/funimation/status/8294786814
---