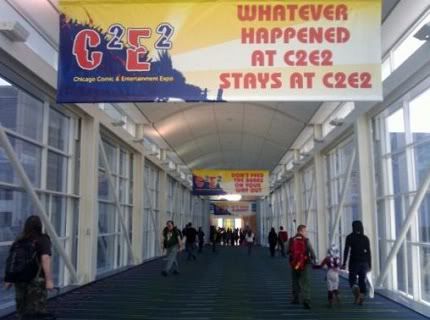 The final day of C2E2 brought about Aniplex's panel. Considering this was coming off the heals of them announcing the
Gurren Lagann movies
& releasing even more titles soon, there was some hope that we'd get some licensing announcements from them. Unfortunately this didn't really happen... sorta. More on that in a moment.
The Aniplex guys talked about the TTGL movie DVDs, showed one of the
Parallel Works specials
, & showed a bunch of their trailers from the
Tokyo Anime Fair
. They could only show the trailers they had the international rights to, but it seems these were the titles they were most interested in releasing in the US. The titles were Welcome to the Space Show, Angel Beats, Working, Night Raid, Sekirei 2, Black Butler 2, Shiki, Togainu no Chi, Durarara, Soranowoto, FMA Brotherhood, Katanagatari, & Guin Saga. Prizes were then given away, & I managed to win Yoko dakimakura. =b They then followed that up with their big announcement- that Katsuyuki Konishi, the seiyuu for Kamina, would be attending Anime Expo this Summer.
So yeah, no real license announcement. But they actually did let one bit of news accidentally slip out. Apparently Sentai Filmworks holds the license to Guin Saga. This fact was mentioned in a very off-handed matter during the panel, as if it were old news. While I questioned myself at the time, it wasn't until later on that I realized "Wait a minute...!" Unfortunately I couldn't get an official confirmation by that point, so that's all we have to go by for now. I did however remember to ask them about possibly releasing the TTGL movies to other online stores. Specifically I mentioned Right Stuf, & they said it would be considered. This whole thing is still new for them.
The FUNimation sneak-peak panel was SUPPOSED to be next, but Adam Sheehan forgot the DVD back in Texas. So it turned into a brief FAQ session instead, where I asked about the DBZ movies on the DragonBox, using Gainax's upcoming FLCL Blu-rays or Funi just upscaling them themselves, & the status of the Dance in the Vampire Bund DVDs. Find all of that more on my Twitter page:
http://twitter.com/NebsTV
---