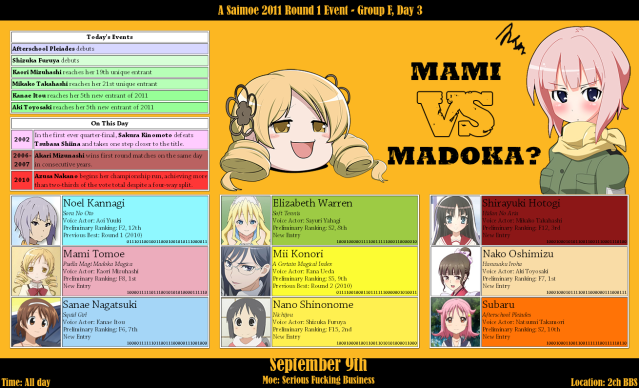 Winners: Mami Tomoe (Madoka Magica), Nano Shinonome (Nichijou), Shirayuki Hotogi (Aria)
Mami was able to get another victory for "Madoka Magica," as expected. In fact she provided the most crushing defeat of her opponents yet this year. Not as devastating as Azunyan's
first round match last year
, but still impressive nonetheless. Nano was able to prove that "Nichijou" wont totally live in the dark shadow of its KyoAni sisters, & can pull its own. The only surprise here was that Shirayuki was able to defeat Nako. Didn't see that one coming, but for me at least there have been far more devastating results this round. Full results:
F03
1st 447 Mami Tomoe @ Puella Magi Madoka Magica
2nd 209 Sanae Nagatsuki @ Squid Girl
3rd 64 Noel Kannagi @ Sora No Oto

F07
1st 343 Nano Shinonome @ Nichijou
2nd 232 Mii Konori @ A Certain Magical Index
3rd 80 Elizabeth Warren @ Soft Tennis

F11
1st 332 Shirayuki Hotogi @ Hidan No Aria
2nd 258 Nako Oshimizu @ Hanasaku Iroha
3rd 89 Subaru @ Afterschool Pleiades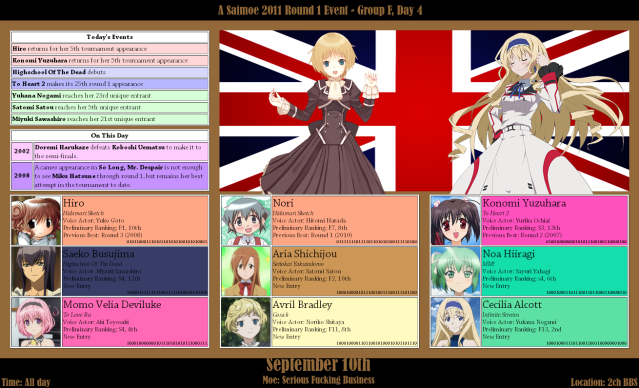 Today, Saimoe undergoes a British invasion! First up we have the lovely Cecilia Alcott from "Infinite Stratos" going up. She's competing against the irresistible Noa Hiiragi (MM), who's my pick to hopefully win tomorrow. Unfortunately, Cecilia will likely pull a victory for jolly old England.
Next up from the UK we have Avril Bradley from "Gosick." Her series really garnered a strong fan-following last season, so she has a good shot at making it two victories for the motherland. However, if there's one thing that Saimoe has taught us over the years it's to never underestimate the powers of "Hidamari Sketch." Nora may finally be able to pull a first round victory.
Finally, this group doesn't have any British characters, but it does have the lovely Momo from "To Love-ru!" It also sees "HOTD" making its Saimoe debut with the busty & strong Saeko trying to beat the odds. But again, you can never underestimate "Hidamari." Hiro may very well pull out a victory, but I'm thinking & hoping that Momo is the one to advance.
Source:
http://www.animesaimoe.org
---