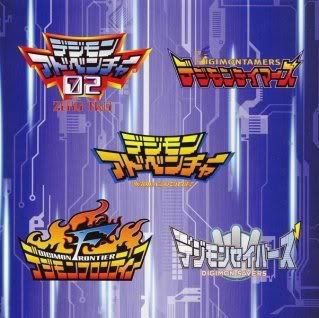 It was announced that a brand new Digimon game for the DS, "Digimon Story: Lost Evolution," would be coming out in 2010. Which seemed pretty, what with an old seemingly retired franchise like Digimon coming out with a new game out of the blue like that. But that's when things really started to get interested. Reports about a new Digimon anime series began to spread online not too long after that. Apparently, a brand new series tentatively titled "Digimon Around" will begin airing next year in Japan (let's not forget though that the original tentative title for "Frontier" was "Scanners"). An official announcement, if true, is expected to be made soon either in the pages of V-Jump or at Jump Festa.
Granted this all seems out of the blue, but don't forget that Digimon Savers
also came out of nowhere as well
. The one thing really holding a new season of Digimon back right now is its timeslot. All five seasons of Digimon have always aired Sunday mornings at 9am on Fuji TV, but that slot is
currently taken by DragonBall Kai
as part of Fuji's Dream9 hour along with One Piece. It's possible that Kai might end come April with the conclusion of the Freeza saga, or will perhaps move to a different time. But more than likely, it'll be Digimon Around getting the new time slot if it indeed becomes a reality. Let's keep our fingers crossed for now.
Source:
http://www.wtwnews.net/exclusive-news/499/New_Digimon_Series
---