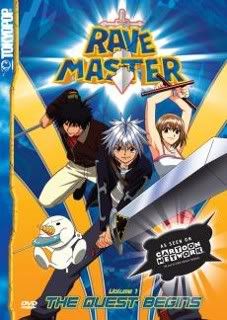 According to the Sci-Fi Channel's online schedule, the anime series "Rave Master" will be joining reruns of "Gurren Lagann" in their
AniMonday block
starting on March 16. The series originally aired on Cartoon Network a few years back, jumping from Toonami to Miguzi to the middle of the night/early morning shift as the ratings progressively dropped.
Personally I'm really surprised that Sci-Fi would show something like Rave Master, considering how kiddish & edited Tokyopop made their dub of the series (stupid & unnecessary jokes forced into every other line being the main complaint). Unless of course this winds up being a different dub somehow, which I seriously doubt. & even so, it probably wouldn't use the Tokyopop's dub title of "Rave Master" & instead either go with "RAVE" or "Groove Adventure RAVE." So expect to see a very juvenile dub following the awesome adventures of Simon, Yoko, & Kamina (interestingly enough,
Yuri Lowenthal
&
Michelle Ruff
play the leads in both dubs).
AniMonday's schedule up to that point is note-worthy as well. The current lineup of two new "Gundam 00" followed by "Macross Plus" continues through the end of January. On February 2, four new back-to-back episodes of "Gundam 00" will take up the entire block that night. The final episode of season 1 will then air a week later on the 9th, followed by the movie "Appleseed." The rest of the remaining weeks will also be filled with anime movies, with "X" showing on the 16th, "Street Fighter Alpha" on the 23rd, "Straight Jacket" on March 2nd, & "Ninja Scroll" on the 9th.
This of course confirms that "Gundam 00 Second Season" wont be directly following the end of season 1. As unlikely as such an event would be considering that season two is
still airing in Japan
, I was still holding out some hope. After all, it wouldn't be the first time
such a thing would happen
. Hopefully it will air on Sci-Fi at some point, though. Then again, Cartoon Network never aired "Gundam Seed Destiny" in the US.
Source:
http://www.scifi.com/schedulebot/index.php3?date=16-MAR-2009
---