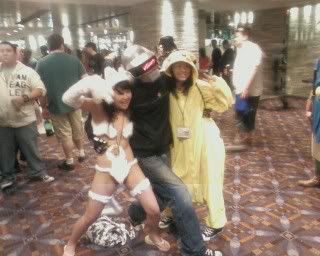 A quick update on stuff I've found out on the first day of Anime Central today, before I catch some sleep.
I asked some Media Blasters people at their booth what was going on with
Moribito & Adult Swim
. According to them, Moribito will indeed be coming back to AS & will be showing the entire series this time around, rather than just the first 10 eps AS originally aired over & over again. It'll be back on TV this summer. (July 25 I think is the date they gave me. Wish I had wrote it down.)
During the opening ceremonies when ADV head Matt Greenfield was introduced, someone in the crowd shouted a question about if we'll ever see the long-promised live-action Neon Genesis Evangelion movie. "Soon, & I'm not kidding" was Mr. Greenfield's response. He clarified a bit later that evening during an Evangelion panel, saying the closer he gets to sealing the deal the less he can say anything about it. & the fact that he can't say anything at all anymore should be a clear sign to us how close the deal really is. He seemed pretty confident.
There was also a marriage proposal during Anime Hell. Pretty cool. Finally,
God Len from Japanator
is also attending ACen, & he took some pics of the new fashion show we got going on this year. Check out his gallery here:
http://www.japanator.com/elephant/post.phtml?pk=9877
---