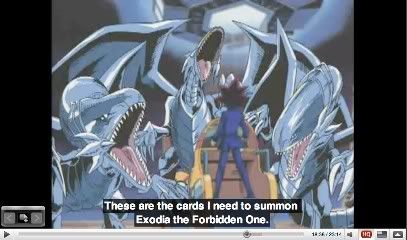 4Kids Entertainment, who have lately been actually pleasing die-hard anime fans by uploading
Japanese raw
&
English subtitled
episodes of Yu-Gi-Oh onto YouTube, have unfortunately been forced to take all the episodes down. Now before you grab your torches & head to 4Kids headquarters with an angry mob, this is not their fault. It turns out a very odd Japanese rights issue has surfaced because of the attention the subbed episodes have been getting (4Kids had just begun
experimenting with hard & soft subbed versions
of episodes that had never before been released in the US).
It seems one of the original Japanese voice actors had a problem with the Japanese episodes on YouTube, so they all had to be removed. That's all the raw episodes, all the soft-subbed episodes, & all the hard-subbed episodes (as of this writing the test hardsub version of episode 13 still works, I'm sure this is just an oversight on 4Kids' part). Now all that remains are the English dub episodes. Personally this doesn't make much sense to me. I'm sure 4Kids had all the legal rights to stream the episodes in regions they had the rights to. So how is it that because one seiyuu had a problem with it (even though the streams weren't available in Asia), all the episodes had to be removed? This seems to apply beyond Internet streams as well. DTO & even DVDs with the Japanese language seem to not be allowed anymore. All in all, 4Kids had delivered a mixture of the first 14 episodes online in subtitled format, & the first 44 raw episodes.
While this is a large & unfortunate setback, there is some good news to share as well. 4Kids Entertainment isn't allowing this to dampen their hopes of releasing uncut & original anime online. Their resident Nameless Cubicle Office Guy has officially announced that completely unedited, subtitled episodes of "Sonic X" & "Yu-Gi-Oh 5D's" are coming this Fall! Subtitled season 1 episodes of "Sonic X" will start rolling out on Hulu, while HD subtitled episodes of "5D's" will be streamed on YouTube. English dubbed episodes of "5D's" (edited) will also be added to YouTube around the same time as well.
Not only that, but for the first time ever, uncut subtitled episodes of "Yu-Gi-Oh GX" will be added to YouTube as well! NCOG promises the "GX" episodes will begin rolling out "after 5D's." I'm not too sure what exactly he means by "after," since 5D's is still airing in Japan. No word yet on if the subbed GX episodes will also include season 4, which was
never dubbed by 4Kids or shown in the US
.
UPDATE: The source site has since changed it's original sentence "A rights issue in Japan with one of the original voice actors raised it's head" to simply "A rights issue in Japan raised it's head" (my RSS reader still has the original version). Not sure why this was modified, but there you go.
Source:
http://ncog.fanoozle.com/2009/08/21/ncog-august-21-2009
---